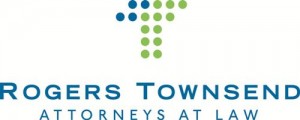 Rogers Townsend Model Notices and Employee Documents
This webpage houses all of the Rogers Townsend model notices along with your Employee Benefits Summary Plan Description for the 2016 benefit year that starts on July 1, 2016. Also, on this page are each carriers certificate of coverage for your benefit. We have also included summaries of these documents for your review along with some carrier forms below.
If you need any more information please contact, Leigh Hiatt, in Human Resources or your Clarke & Company Benefits representative below.
Click here for the 2016 Benefit Guide
Summary Plan Description & Certificates of Coverage
You will find the Rogers Townsend 2016 Summary Plan Description and also your certificate of coverage for the benefit plans offered through Rogers Townsend. Click on each link below to access the plan information.
RT Summary Plan Description
 Drug Lists
TeleDoc
Important Employee Benefits Notifications
Below you will find all of your required notifications for the Rogers Townsend employee benefit plans. If you have any questions regarding these notices please contact RT Human Resource or your Clarke & Company Benefits representative regarding any notice. These notices can be found during the year on RT intranet under benefits.
Health Care Reform Individual Mandate
Effective January 1, 2014 you are required to have health insurance. For more information on the individual mandate and your responsibilities, please click on the link below.
Employee Benefit Summaries
You have access to your Rogers Townsend benefit guide and the benefit summaries for each plan below. With our High Deductible Health Plan you can click here for more information on this plan.
Web Tools For Managing Your Health
BlueChoice My Health Toolkit
As an employee of Rogers Townsend take charge of your health and start using the My Health Toolkit from BlueChoice. Watch a short video on how you can check your Explanation of Benefits, take a Personal Health Assessment, check claim status, find a doctor, see what has been applied to your deductible and much more. In the video, you will learn everything in the new toolkit and how you access it. Please note that the video is on Blue Cross of SC but you're my Health Toolkit is the exact same for BlueChoice of SC.
To view a video on the My Health Toolkit web tool click below.
My Health Toolkit Video
Questions About Your Rogers Townsend Benefits
If you have any questions concerning your current benefit package, any future benefits, or any other benefit information that you may need, please contact our benefit team at Clarke & Company Benefits. Our contact information is below.
Laura Howell– Account Manager
Toll Free: 888-540-9403
Columbia: 803-253-6997
To email click on name above.