Tailgate Treats
Posted on: August 30, 2016
Categories: LiveWell 24/7
It's that time of the year again! Football season is just around the corner and tailgates are in the making. We all love to indulge in some dips and fried food while watching our favorite teams, but this may put a dent in our health goals. To eliminate this temptation, we've compiled a list of some healthier options for your tailgate this season!
Zucchini Pizza Bites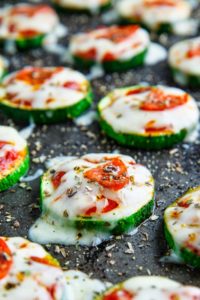 Ingredients
1 tablespoon olive oil
2 medium zucchini, cut into 1/4 inch slices
Salt and pepper to taste
1/2 cup pizza sauce or marinara sauce
1 cup shredded mozzarella
1/4 ounce pepperoni (mini or quartered full sized)
Oregano or Italian seasoning to taste
Directions
Brush or spray the zucchini slices with oil on both sides,
Season with salt and pepper
Grill, broil or saute until just tender (about 1-2 minutes per side)
Place them on a greased baking sheet, top them with sauce, cheese and pepperoni and broil until the cheese has melted (about 2 minutes)
Sprinkle with oregano or Italian seasoning to taste
Mini Pepper Nachos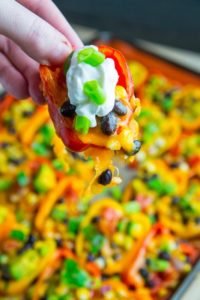 Ingredients
2/3 cup corn (grilled, charred, fresh, thawed or canned)
2/3 cup black beans
2/3 cup pico de gallo (or other salsa)
1 medium avocado, diced
Salt and pepper to taste
1 pound mini peppers, halved and seeded
1 cup cheddar cheese, shredded
1/4 cup green onions or cilantro (optional)
Directions
Mix the corn, black beans, pico de gallo and avocado and season with salt and pepper.
Arrange the peppers on a baking sheet, fill with the filling, sprinkle on the cheese and broil until the cheese has melted, about 2-4 minutes.
Garnish with green onions or cilantro (optional).
Sweet Potato Skins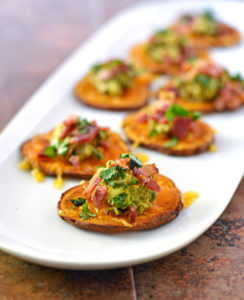 Ingredients
2 tablespoons extra virgin olive oil
2 sweet potatoes, scrubbed clean, peels on
1 and 1/4 teaspoons kosher salt, divided
3/4 teaspoon black pepper
1/3 cup granted 2% sharp cheddar cheese
2 medium avocados, peeled, pitted, and diced
2 tablespoons non-fat or 2% plain Greek yogurt
1 tablespoon fresh lime juice
1/2 teaspoon smoked paprika
3 ounces bacon (about 4 slices)
3 tablespoons freshly chopped cilantro
Directions
Preheat oven to 425 degrees F.
Line two rimmed baking sheets with foil, then brush with 1/2 tablespoon olive oil each.
Arrange slices in a single layer on the oiled baking sheets, then brush tops with remaining olive oil.
Sprinkle with 1 teaspoon salt and black pepper.
Roast for 20-25 minutes, until golden brown underneath
Flip, then roast for an additional 8 minutes.
Remove from oven, sprinkle with cheddar, then return to oven and bake for an additional 3 minutes, until the cheese is melted and bubbly.
Meanwhile, in a small bowl, combine the avocado, Greek yogurt, lime juice, remaining 1/4 teaspoon salt, and smoked paprika. Mash lightly with a fork, but still leave the mixture slightly chunky. Set aside.
Fry bacon in a large skillet over medium heat, chop into small pieces.
Once the crisps have baked, top each with a dollop of the avocado mixture, chopped bacon, and cilantro.
Spinach and Artichoke Hummus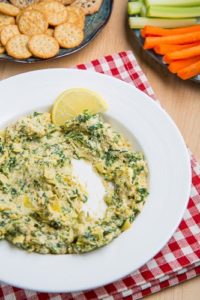 Ingredients
1 (15 ounce) can chickpeas, drained and rinsed
1 clove garlic
2 tablespoons tahini
1/2 lemon, juice (~2 tablespoons)
Olive oil to taste
Salt and cayenne to taste
1/2 (10 ounce) package frozen spinach, thawed, squeezed, drained and coarsely chopped
1 (14 ounce) can artichoke hearts, drained and coarsely chopped
1/4 cup asiago or parmesan, grated
Directions
Puree the chickpeas, garlic, tahini, lemon juice and enough oil to get the consistency that you desire.
Season with cayenne, salt and pepper and mix in the spinach, artichoke hearts and cheese.
Cowboy Caviar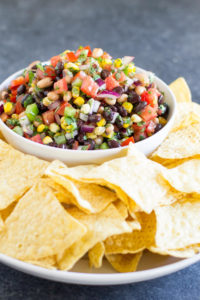 Ingredients
1/2 cup olive oil
1/3 cup sugar (see notes)
1/3 cup white wine vinegar
1 teaspoon chili powder
1 teaspoon salt
1 pound Roma tomatoes, seeded and diced
1 (15 ounce) can black-eyed peas, rinsed and drained
1 (15 ounce) can black beans, rinsed and drained
1 (11 ounce) can super sweet corn, drained (see notes)
1 red onion, diced
1/2 cup diced green bell pepper
1/2 cup diced red bell pepper
 1 cup chopped cilantro (1 bunch)
Directions
In a large bowl, whisk together the olive oil, sugar, white wine vinegar, chili powder, and salt. Add tomatoes, black-eyed peas, beans, corn, red onion, and bell peppers. Stir to combine.
Stir in cilantro. Cover and chill at least 1 hour or overnight to blend flavors. Serve chilled or at room temperature.
Sources: Culinary Hill, Well Plated, Closet Cooking