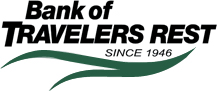 Bank of Travelers Rest Open Enrollment 2019
Welcome to the Open Enrollment site for Bank of Travelers Rest. We are continuing our health plan with Blue Cross Blue Shield of SC for an effective date of January 1, 2019. You can access the Blue Cross My Health Tool Kit and take the Personal Health Assessment (PHA) on this website. We have also provided an online tool for Knowing Your Numbers and monitoring your health. Contact one of the Clarke & Company Benefit representatives listed below with any questions. We welcome you to the Bank of Travelers Rest Enrollment Season and look forward to seeing you at a meeting.
2019 Benefit Enrollment Information
Important Open Enrollment Notifications
Below you will find all of your required notifications for the Bank of Travelers Rest Open Enrollment. If you have any questions regarding these notices please contact Bank of Travelers Rest Human Resources or your Clarke & Company Benefits representative regarding any notice.
Blue Cross Blue Shield Health Plan Information
Dental
Mutual of Omaha Life Insurance Information
Guardian Information
Questions About Your Bank of Travelers Rest Benefits
If you have any questions concerning your current benefit package, any future benefits, or any other benefit information that you may need, please contact our benefit team at Clarke & Company Benefits. Our contact information is below.
Laura Howell– Account Manager
Toll Free: 888-540-9403
Columbia: 803-253-6997
To email click on name above.
The information on this webpage is presented for illustrative purposes and is based on information provided by the employer. The text contained on this website was taken from various summary plan descriptions and benefit information. While every effort was taken to accurately report your benefits, discrepancies, or errors are always possible. In case of discrepancy between this page and the actual plan documents, the actual plan documents will prevail. The plan documents will govern all plans covered on this page. This page is not a contract or a guarantee of your eligibility or benefit. All information is confidential, pursuant to the Health Insurance Portability and Accountability Act of 1996. If you have any questions about this page, contact Human Resources. If you sign up for coverage that requires evidence of insurability, even though deductions may start, you are not considered enrolled in the plans until confirmed by the carrier. If declined, you will be reimbursed.