Back to School: Backpacks 101
Posted on: September 17, 2014
Categories: LiveWell 24/7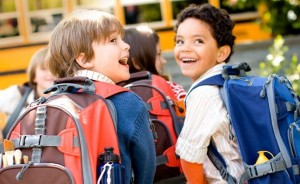 With the return of the school year, your children are likely shouldering backpacks on their way to the bus and down school hallways. While backpacks are convenient and often necessary, they can also pose a health risk if not used properly.
Backpacks, especially overloaded ones, can strain muscles and joints, causing fatigue and injury to your child. Children should carry no more than 10 to 15 percent of their body weight in their backpacks. To keep your child free from unnecessary back pain, help him or her determine how to keep the load as light as possible. Sort through books and supplies and determine what is necessary for daily use, and encourage your child to take advantage of a locker or other school storage space as much as possible.
Properly adjusting the backpack is important and can help reduce potential back pain or strains. First, choose a backpack that fits your child. A bag that is proportionally too large will not only be unwieldy and difficult to adjust properly, but it is also easier to overfill because the space is available. Also, look for a backpack that has wide, padded straps in order to avoid digging into the shoulders and neck.
Once an appropriate bag has been chosen, adjust the straps to fit the child properly, with the bag resting evenly in the middle of the back. Encourage your child to avoid carrying the bag on only one shoulder, as this can lead to additional strain.