Clarke & Company's Healthy Tailgate Challenge
Posted on: September 9, 2015
Categories: LiveWell 24/7 News & Events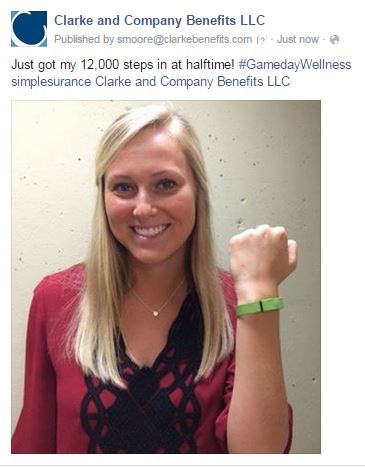 Are you a master of healthy tailgate eats or king of the lean meats on the grill? Do you reach for the dumbbells instead of the chips and queso while you watch the game at home? Are you the captain of the two hand touch game at halftime? Then we have a fall challenge that you won't want to miss out on! This fall, Clarke & Company benefits will be sponsoring a healthy tailgate challenge on Facebook, and we want YOU to compete to win a Fitbit Charge.
How to get in on the action:
1. Like Clarke & Company Benefits and simplesurance on Facebook.
2. Post a picture between now and the end of the regular season (November 28th) that shows off your healthy game day habits on Facebook, mention our pages, and use #GamedayWellness! (see example to the left)
3. At the end of the regular season, we will select the five best pictures to compete in the "Wellness Playoffs." The playoffs will last until the National Championship Game (November 26th-January 11th).
4. The picture that gets the most likes during the playoffs will be crowned the winner, and the person who posted it initially will win a Fitbit Charge! If you are selected to compete in the playoffs, make sure to share your picture from our Facebook page to get the most likes!
We can't wait to see how you prioritize health and wellness on game days! Please contact wellness@clarkebenefits.com with any questions.