Slide the City in Columbia on July 4th
Posted on: June 26, 2015
Categories: News & Events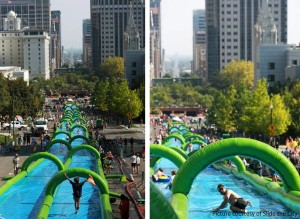 Need plans for the Fourth of July still? Slide the City is bringing the biggest water party of the summer to Columbia next Saturday so just grab your swimsuit and get ready for a good time!  This is a one of a kind event that travels around the country and sets up a 1000ft slip and slide through different cities. Additionally, there is music, dancing, food, drinks, and merchandise for sale! But the best part is the money raised goes toward a local charity.
Get pricing information and sign up here! Before you jump on the slide, be sure to grab your registration packet with your goodies and wristband. Remember you must have an inflatable tube to ride on the slide and don't forget your signed waiver which you can find here.
Read more details and event day info here!
Source: Slide the City