Stay Healthy This Winter
Posted on: December 3, 2014
Categories: LiveWell 24/7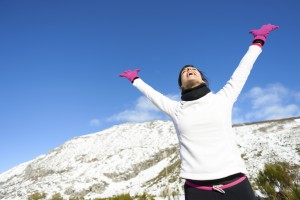 Winter doesn't have to be the unhealthiest time of the year for your family. Here are some ways to fight the cold weather and keep your body healthy and fit!
1. Catch Up on Sleep– Most Americans sleep much less than the recommended hours per night. However, we naturally sleep more in the winter time because of the long nights. Use these extra hours of sleep to eliminate your sleep debt.
2. Add Dairy to Your Diet– Its no surprise you are more likely to get a cold in the winter so preparing your immune system is key in fighting sickness. Milk and dairy products are great sources of protein and vitamins that can help keep your immune system in good condition. In addition they provide calcium that will keep your bones strong.
3. Eat More Fruits and Veggies– Its important to maintain a healthy diet and include fruits and vegetables in your meals everyday. Many people are tempted to fill up on unhealthy comfort food in the winter but you can satisfy that craving by trying a clementine or dried fruits.
4. Try a New Activity– It is also important to continue to exercise, but you can make it fun by trying new activities with your family. Instead of hanging inside all winter, get out and try something new like ice skating or a walk through the park. This exercise will control your weight and boost your immune system too!
5. Plan a Healthy Breakfast– Oatmeal for breakfast is perfect in the winter because its not only delicious but it boosts your intake of starch and fiber. These give you energy and prevent the urge to snack midmorning.
Try these tips this winter and make it a goal to stay healthy!
Source: NHS